'Lard-like' substance washed up on Isle of Man beaches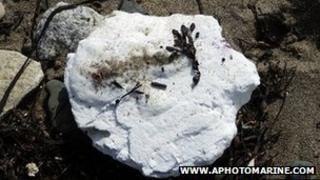 Dog walkers are being warned to keep their pets away from a white "lard-like" substance that has washed up on several Isle of Man beaches.
The coastguard said some is stone-like and of golf ball size while other pieces are approximately one foot square and three or four inches deep.
A clean-up operation was mounted at the weekend and the material has been sent for analysis.
It is believed it could be palm or vegetable oil.
Isle of Man coastguard's Senior Officer Chris Burton said: "Until this material can be analysed members of the public are advised to keep dogs on a lead."
So far the substance has been reported on Port Erin, Port St Mary, Fleshwick bay, Fenella beach, Ballaugh, the Lhen and Perwick Bay.
Mr Burton added: "It is very similar to the substance washed up on the South Coast of England last year."
Bill Dale, of the charity Beach Buddies, said: "This may be the same substance washed ashore a few months ago along the south coast of the UK and the Scilly Isles, which caused a number of fatalities to wildlife and a pet dog which ate some of the substance.
"It was found to be palm oil and the source of that contamination has still to be found and may never be discovered."