Isle of Man ferry service to miss March deadline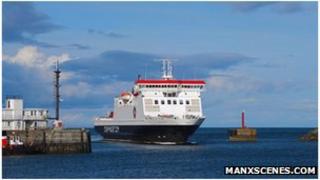 A Manx company attempting to establish a ferry service between the Isle of Man and Liverpool has confirmed it will not be able to start in March.
The Ellan Vannin Line, owned by Sea Alliance, announced its plans last year, stating it would be an "alternative to the existing monopoly".
All island operations are currently handled by the Steam Packet Company.
Sea Alliance head Kurt Buchholz said he had submitted an application to the Manx government but heard nothing back.
'Still waiting'
He said: "We submitted our specific application to the Isle of Man government for the use of harbour facilities and the link-spans in October 2013.
"Since then the government have been checking existing agreements and we have been promised a comprehensive reply to our application.
"After nearly three months we are still waiting for such a response.
"This is a disappointment to us and many people who hoped to have an affordable chance to come over to the Isle of Man and for TT 2014, and it is a disappointment also for the businesses which hoped to have an alternative to the existing monopoly RoRo service and different pricing which is based on competition".
Mr Buchholz said his company would need around three months to set up the operation if it received a positive response to the application.
Director of Ports Anne Reynolds said: "I can confirm we have not denied the Ellan Vannin Line access to Douglas Harbour,
"These talks are on going, we are responding to their request for information.
"I don't believe we have been slow to respond. The proposals have changed along the way but the talks have not closed.
"Over the past seven months we've had a number of discussions with the company and there have been a number of proposals which we've tried to deal with and give guidance on."