Princess Anne opens Ballavartyn equestrian centre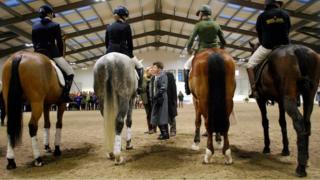 Having a new equestrian centre opened by the Princess Royal was a "wonderful way to begin the New Year", a stable owner has said.
Princess Anne opened the centre at Ballavartyn stables in Santon during her first visit to the Isle of Man since 2008.
Owner Saskia Blaymire said she was "thrilled and honoured" by the visit.
The princess also visited the Manx prison and the Department of Environment, Food and Agriculture.
She has visited the Isle of Man on a number of occasions since the 1970s.