TT star Michal Dunlop becomes freeman of his hometown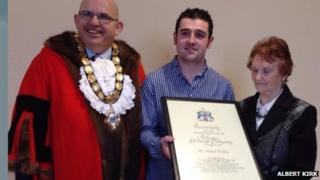 Seven-time TT winner Michael Dunlop has become a freeman of his hometown of Ballymoney in Northern Ireland.
The racer follows in the footsteps of his father Robert, who won five TT races, and his uncle Joey, who is the most successful rider in TT history.
Dunlop said he was "made up" to be honoured by Ballymoney Borough Council which unanimously passed the motion in October.
The 24-year-old is the youngest recipient of the honour.
Dunlop said: "I am very proud. Only four people have received this honour and two of those are my family. I am made up to be the fifth."
In June, he dominated the Isle of Man TT event, winning four races in a week and only missed out on a clean sweep after finishing runner-up to John McGuinness in the senior race.
In 2008, at the age of 19, Dunlop won the 250cc race at the North West 200 in Northern Ireland, less than 48 hours after his father Robert died in an accident during practice.
His uncle Joey Dunlop was a five-time Formula One motorcycle racing champion, who won a record 26 TT races. He was killed in a road race in Estonia in 2000.
His brother William is also a racer.