Isle of Man church service marks Manx link to Holocaust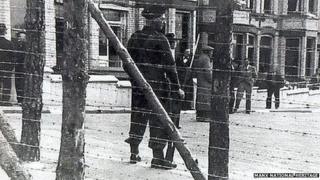 The Manx Holocaust memorial service is a "poignant" reminder of the Isle of Man's role as an internment centre during WW2, said organisers.
Between 1940 and 1945 thousands of Jewish refugees were held as "enemy aliens" in six island internment camps.
The annual event will take place at St George's Church in Douglas at 15:00 GMT on 26 January.
Memorial organiser Carol Jempson said the Isle of Man was touched by the Holocaust in a very direct way.
She added: "The Manx memorial service is particularly poignant here because many of those who fled Nazi Germany ended up in one of the six internments camps around the island."
Camps during WW2 were located in Douglas, Onchan, Peel, Port Erin, Port St Mary and Ramsey.
Holocaust Memorial Day is held in January each year to mark the date when the camps at Auschwitz in Nazi-occupied Poland were liberated in 1945.