Isle of Man war ship artefacts handed over to Museum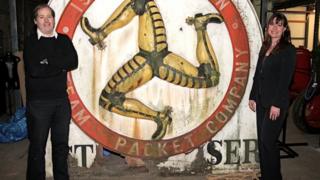 Historical artefacts belonging to ships from the Isle of Man that served in both world wars have been handed over to the Manx Museum.
The relics, a carving and a ship's bell, were donated by ship owners, the Steam Packet Company,
The Mona's Queen II was engaged in the English Channel as troop transport during WWI, and the Lady of Mann I took part in the Dunkirk evacuation of 1940.
The museum said the items would be restored before being put on display.
Curator Matthew Richardson said: "The carving... comes from the paddle wheel cover of Mona's Queen II which, on one occasion in the English Channel, encountered a U-boat and her captain decided to engage the submarine by ramming it.
"These three legs might well have been the last sight the U-boat commander saw, before his fatally damaged vessel sank beneath the waves.
"The bell, meanwhile, is from the Lady of Mann, which took part in the evacuation of the British and French armies from Dunkirk, under ferocious air attack, in May 1940."