Isle of Man storms bring 'mountains of rubbish'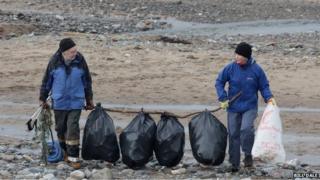 Beach cleaners have collected "mountains of rubbish" deposited on the west coast of the Isle of Man during recent stormy weather.
About 30 Beach Buddy volunteers gathered 54 bags of rubbish at Ballaugh Cronk on Sunday.
Coordinator Bill Dale said they also found "dozens" of oil drums.
He added: "We tackled mountains of rubbish- the recent storms brought more than I have seen in seven years of running Beach Buddies."