Isle of Man ferry damaged in January storms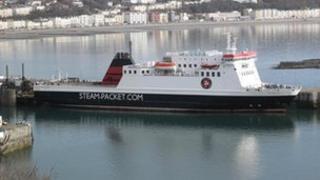 Isle of Man ferry operators have chartered a freight vessel after the Ben-my-Chree was damaged during "prolonged use" in the stormy weather.
The Steam Packet company said the ferry will be dry-docked for about a week for repair work on a stabilising fin.
The work will take place in two stages, between 17 and 20 January and again between 8 and 10 February.
A spokesman said freight services will be covered by the charter and passenger services covered by the Sea Cat.
He added: "The Manannan will be brought into service for both of these periods in order to cover our passenger commitments and will also provide a limited freight service.
"Passengers should note that the scheduled weekend Birkenhead sailings will instead operate to and from Pier Head in Liverpool.
"We recognise the inconvenience this may cause and apologise for this necessary disruption to normal services, however, we believe that with prior notice and the ability to forward plan any difficulties should be minimised."
In the meantime Ben-my-Chree will continue to operate as scheduled, as the damage has not impact on safety, said operators.