Sandbag advice after Isle of Man flooding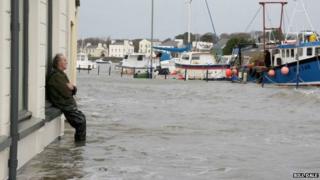 Residents and businesses in the Isle of Man have been advised to store sandbags issued by the government in case of more flooding forecast for February.
Several island roads were closed on 3 January with the towns of Ramsey and Castletown suffering the worst damage.
The government said more than 13,000 bags were issued to people in low-lying and coastal areas when unusually high tides coincided with stormy weather.
A spokesman said: "Sandbags still in plane on 13 January will be collected."
He added: "Although there are no imminent high tides over the next few weeks there are high tides again early next month, which, if combined with low pressure and high winds, could cause further flooding.
"The department therefore is providing residents and businesses with an opportunity to keep hold of sandbags which they have acquired and to store them in a safe place in preparation for the next event."