Severe gales cancel Isle of Man ferry sailings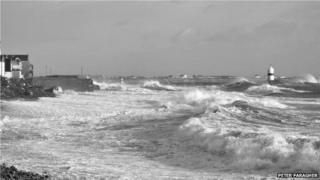 Gale force winds in the Irish Sea have forced the cancellation of ferries to and from the Isle of Man.
The Isle of Man Met Office has predicted severe winds reaching up to gale force 10.
The Steam Packet Company's morning and afternoon sailings between Heysham and Douglas were cancelled on Monday due to winds of up to 70mph (104km/h).
A company spokesman said later sailings on Monday at 19:45 GMT and 02:15 GMT were also been cancelled.
Sailings between the island and Heysham scheduled for Tuesday were also subject to disruption.
The Isle of Man government issued a "red" flood warning for Monday, and a spokesman said more flooding was expected at about 15:00 GMT during high tide.
"Many coastal areas and promenades will be closed to traffic, parts of Castletown will face the biggest impact, with flooding expected around the areas of Back Hope Street, Hope Street, Springfield Terrace, Athol Terrace and Milner Terrace," he added.
"Douglas and Laxey Promenades and Ramsey quayside will also be at risk, although water levels in these areas are expected to be lower than those experienced during Friday afternoon's tidal flooding event."
The Department of Education and Children said all schools would be open as normal on Monday.