Isle of Man roads closed by flooding after high tide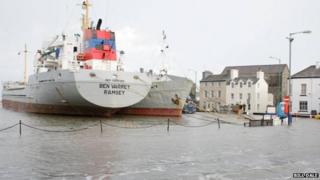 Business and homes around the Isle of Man have been hit by flooding following an unusually high tide.
The Department of Infrastructure (DoI) said many low-lying and coastal areas had been affected and thousands of sandbags were issued to those at risk.
Parliament Street in Ramsey has been closed, as has North Quay in Douglas and Hope Street in Castletown.
A DoI spokesman said "many people, especially in Ramsey, have had problems".
He added that "about 10,000 sandbags" had been issued across the island and that members of the public should stay away from flooded areas.
A severe tidal warning issued on Thursday had predicted problems in Castletown, Douglas, Laxey, Peel, Port Erin and Ramsey.
A spokesman for the Manx constabulary said people were urged to "take heed of the warnings of the road closures and vulnerable areas that have been identified".
The stormy weather has also seen all ferry sailings between Douglas and Heysham in Lancashire cancelled on Friday.
A Steam Packet company spokesman said a decision about further sailings would be made later.