Inmates make Christmas hampers for the elderly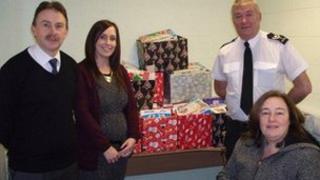 Inmates in the Isle of Man's prison have volunteered to bring Christmas cheer to elderly people.
Food hampers are being delivered to dozens of people in Jurby following cash donations from prisoners, staff and visitors.
As well as helping to decorate the boxes, inmates contributed to the cost with money they had earned while serving their sentences.
Administration Officer Helen Callow said the response had been "amazing".
She said: "I really appreciate everyone's contribution. I never fail to be amazed by the generosity here at the prison and the collective support for the elderly community within the village."
It is the fifth year of the appeal and the hampers will be delivered by Age Concern.