Isle of Man's 'hidden homeless'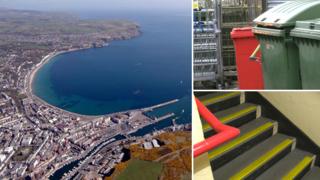 Despite being home to many on the Sunday Times rich list, the Isle of Man also has a darker side which has been described by a charity as a "hidden problem".
A growing number of people have no home to call their own. Instead, they sleep in car parks and public toilets while seeking whatever food they can find.
Without housing associations or homeless legislation, some people are slipping through the safety net, the charity Housing Matters claims.
For the past 12 months Chris Edwards has been finding his food in bins in Douglas.
"It kept me alive," he said.
"People might say it's disgusting, but I don't care. It is a means of keeping alive."
'Freezing cold'
When his sick note for work ran out he felt ashamed to ask for more help and could not pay his rent.
He ended up sleeping rough in the stairwell of a Douglas car park.
"I would just sit and lean up against the wall - it was freezing cold. People tend to forget about homeless people on the Isle of Man but there are people in need of help."
Recently Mr Edwards, 56, was referred to the charity Housing Matters who found him accommodation.
The Douglas-based charity said it has helped about 300 clients this year in the Isle of Man.
It said the majority of their clients have faced changes in their health, relationship or financial situation and feel like they have nowhere to turn.
Housing Matters' Joanna Chapman said: "I've worked here for five years and I still here as many people ask 'what homelessness'.
"The problem we've got is a hidden problem."
One teenage girl, who asked to be anonymous, was sleeping in public toilets while sitting her GCSE exams.
She said: "It was freezing cold. There was a little shelf that I needed to huddle myself up into. It wasn't nice.
"People might have thought I was leaving home to spite my parents but it wasn't that. It was a place I didn't want to be. A place I couldn't be."
Social Care Minister Chris Robertshaw said: "Are people slipping through the net? The short answer is yes I think they are.
"The challenge now is for us to sensitise ourselves to that and understand and learn how our systems need to be refined so it ceases to happen."