Uncovered British Rail posters go under hammer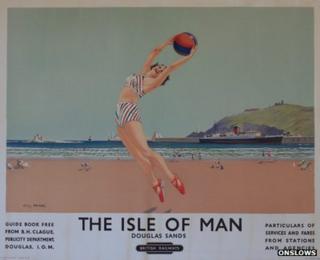 A set of vintage British Rail posters discovered under floorboards in a house are to be sold at auction.
The posters advertising seaside resorts, including the Isle of Man, had been used to line the floorboards in an Edinburgh house.
They were found in mint condition by a property developer and will be sold by Onslow's auctioneers, Dorset, which believes they are worth £1,500 each.
Other resorts include Southend-on-Sea, Norfolk and Brighton and Hove.
Patrick Bogue, a specialist poster auctioneer, said he had seen a few examples of these type of posters hidden under floorboards.
A rare poster of the Flying Scotsman by artist Phillip Zec sold for £20,000 in December 2010, but Mr Bogue said these 10 posters, although unusual, were not as rare.
"The posters are all seaside holiday destinations that would have been accessible from Edinburgh", he said.
The promotional posters would have been used to encourage people to travel by rail after the war. Many were issued by the British Railway Executive, the nationalised body that went on to become British Rail.
The sale is being held on 20 December.