Isle of Man watchmaker delivers Downing Street commission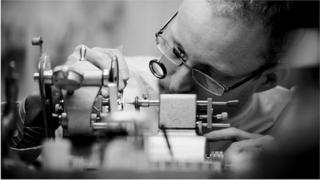 An Isle of Man watchmaker has visited 10 Downing Street to deliver a "one-of-a-kind" creation which cost £180,000 and took 10 months to complete.
Bolton-born Roger W Smith's watch will be used for the GREAT campaign, designed to showcase the very best of Britain to the rest of the world.
Mr Smith, who says he has a two-year waiting list, said: "It is one of the most complex dials I have ever made."
The watch's 34 components were all made by hand in the Isle of Man.
It was commissioned by David Cameron's office in February.
Mr Smith funded the cost of making the watch, which features a silver union jack as well as the Isle of Man's Three Legs of Man, and is loaning it out for the period of the initiative.
Mr Smith, the protégé of master watchmaker George Daniels, said: "For its sheer complexity it is one of the finest watches I have ever made.
"The dial alone took three months to complete, which is a relatively quick turnaround for me.
"I wanted it to be a showcase for English watchmaking and what we are doing here on the Isle of Man."
Every component of Mr Smith's watches is created in his workshop.
Conrad Bird, GREAT campaign manager, said the watch represented the "very best of British" and was a "fantastic showcase".