Isle of Man police appeal for 'crime free Christmas'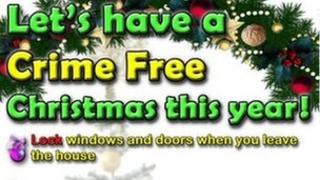 A police campaign to help reduce "opportunist crime" over Christmas has been launched in the Isle of Man.
A promotional poster will be displayed in venues around the island, listing advice and tips on how to keep your home secure over the festive period.
The appeal urges residents to be alert to crime during the Christmas period.
"The majority of offences committed during the holiday period are opportunist crimes." a police spokesman said.
The crime prevention advice suggests keeping presents out of view until Christmas day and not leaving valuables on display under the tree once they have been opened.
Force Crime Prevention Officer Mike Radcliffe said: "We understand people are busy trying to arrange a myriad of things. However, we need members of the public to take basic precautions and think of security."