Isle of Man attorney general 'sloppy not criminal'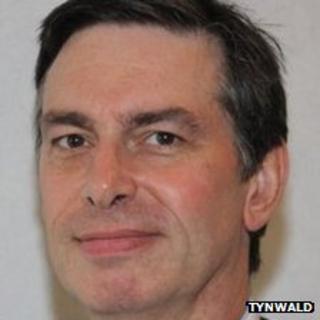 The actions of the Isle of Man's attorney general were "foolish and unprofessional" but they were not criminal, a court has heard.
David Farrer QC said Stephen Harding may have been a "sloppy timekeeper" but he was "not a con man".
At Douglas Court House, Mr Harding, 52, from Glen Vine, denies perjury and acts against public justice.
He was suspended as the Isle of Man government's main legal adviser last year, a post he has held since 2010.
The charges date back to a period between April and September 2010 when Mr Harding was a government advocate.
'False documents'
A jury of seven was told that in 2009, Mr Harding "lied under oath" at an Advocates Disciplinary Tribunal (ADT).
It upheld a complaint against Mr Harding brought by Jonathon Irving, a director of property development company Street Heritage Ltd that was liquidated while facing a tax bill of more than £180,000.
The tribunal found Mr Harding's professional misconduct to be an "isolated incident" and a few months later he was appointed attorney general.
But the prosecution said this may never had happened had the tribunal been aware that Mr Harding "submitted false documents to cover his tracks."
The trial centres around allegations that, on several occasions, Mr Harding amended telephone records (file notes) with the intention of deceiving the tribunal.
"These lies were not told out of panic," said prosecutor Peter Wright QC.
"He [Mr Harding] is a distinguished advocate. He lied to conceal the truth, a truth he set about concealing long before the ADT."
'Dodgy and deluded'
But Mr Farrer said: "People make mistakes, especially in the course of a busy day.
"This was not a deep laid plot as the prosecution would have you believe, this was just sloppy paper work.
"Mr Harding's conduct has already been addressed in the tribunal, and let's be clear, his actions caused no real harm to anyone but himself.
"What was he supposedly concealing? Nothing in the file notes could have misled the tribunal in anyway."
Mr Farrer went on to tell the jury the prosecution depended on the evidence of a "dodgy and deluded businessman".
"Jonathon Irving had lost all sense of reason and was looking to blame everyone but himself for the fall of his company," he added.
"He not only has a record of tax dodging and making dodgy payments from insolvent companies, he then levelled ludicrous accusations of dishonesty towards senior civil servants, ministers and member of the judicial service.
"You cannot trust his evidence, he is either mad, bad or both."
During the trial Mr Harding elected not to give evidence, something the prosecution criticised in court.
But the defence claimed the reason Mr Harding did not take to the stand was because he had nothing to add to the evidence already submitted, in the form of police interviews.
The trial continues.