Tributes paid to 'great character' of Manx football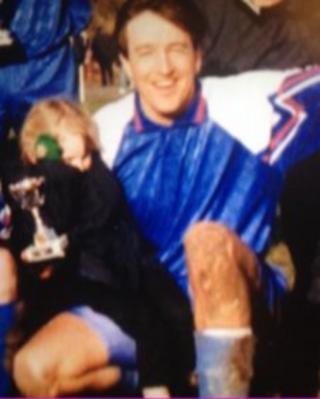 Tributes have been paid to a "great character " of Manx football who died during a football match at the weekend.
Andy Cadwallader collapsed on the pitch at Castletown Stadium towards the end of the club's game against Union Mills on Saturday.
He was given emergency first aid but died before reaching hospital.
Ronaldsway club secretary Adam Caddick said 49-year-old Mr Cadwallader was a "passionate supporter of the local game".
"He was a great character around the club.
"The amount of players saying how much he meant to them on social media and how much he encouraged them to become better players is remarkable," said Mr Caddick.
His son Jamie, 15, who also played for Castletown, said: "He taught me everything about the game. He was a brilliant father."
Mr Cadwallader, who spent many years playing at neighbouring Ronaldsway, had hoped to play alongside his son at Castletown next season when his son had turned 16.
Vice-President of the Isle of Man Football Association Tony Mepham said: "He was an incredibly loyal player, a talented goal scorer and a genuine character of the Manx game."