Solway Harvester will be scrapped by Christmas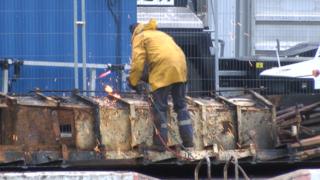 The scrapping of the Solway Harvester should be completed by Christmas, according to the company dismantling the ill-fated vessel.
The Scottish scallop dredger sank in heavy seas off the Isle of Man coast in January 2000 with the loss of all seven Galloway fishermen on board.
Stephen Carter from the Laxey Towing Company said: "Weather permitting, the job will be finished by Christmas."
The dismantling of the vessel started in early November.
The wreck was found on 15 January 2000 lying on her starboard side in 35m (115ft) of water.
The Isle of Man government spent more than £1m to raise the vessel and retrieve the bodies.
On board were skipper Andrew Mills (known as Craig), 29, his brother Robin Mills, 33, their cousin David Mills, 17, Martin Milligan, 26, John Murphy, 22, David Lyons, 18, and Wesley Jolly, 17.
The men were all from the Isle of Whithorn area of Dumfries and Galloway.
The Laxey Towing Company was one of the firms to help recover the bodies.
The wreck remained in Douglas harbour for more than 13 years, due to the possibility of continuing legal action.
Mr Carter added: "Everything is going to plan with the job as it is fairly methodical. We have found some stainless steel but nothing too unexpected.
"Everyone I have spoken to is glad to see it go. It has been a constant, sad and macabre reminder for long enough."
The scrap metal is being shipped to Morecambe in Lancashire.