Isle of Man Songs of Praise episode shown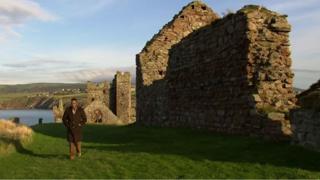 The Isle of Man will feature in a special Advent Sunday episode of Songs of Praise, filmed earlier this year at St German's Cathedral in Peel.
A BBC production team travelled to the island last October to film two programmes - one for Advent Sunday and another scheduled for next spring.
The programme's presenter David Grant said it was a pleasure to film on an island with "such huge contrasts".
He added: "It's a hidden gem - I didn't know how beautiful the island was."
About 200 people from around the Isle of Man gathered together at the cathedral last autumn to rehearse and perform for the cameras.
Cathedral Dean, The Very Reverend Nigel Godfrey, said it was a "real pleasure" to bring together all of the island's choirs to sing carols, some of which had a Manx connection.
"There was a lot of interest and to have everyone together was a wonderful experience."
It is the fourth time Songs of Praise has been filmed on the Isle of Man. It was filmed at St German's cathedral in November 1979, St George's Church in Douglas in 1987 and at Peel Castle in 1997.
The programme currently draws between 1 and 2.5 million viewers.