Sam Barks and Susan Boyle film set for US release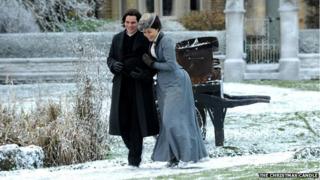 A period film staring Les Mis actress Sam Barks and singer Susan Boyle is set for US cinema release on Friday.
The Christmas Candle, shot on location is the Cotswolds and Isle of Man this year, will be Britain's Got Talent star Boyle's big screen debut.
Based on a novella by US preacher and author Max Lucado, the film is set in an 1890s English village where blessed candles answer people's prayers.
The film will be released across the UK cinemas on 13 December.
It is described as a " timeless holiday film for the entire family".
Scottish singer Boyle became an overnight international sensation in 2009 after performing the Les Mis song I Dreamed A Dream on ITV's Britain's Got Talent.
The video of her performance has been viewed hundreds of millions of times on YouTube.
Isle of Man actress Sam Barks shot to fame on the BBC talent show I'd Do Anything in 2008.
She went on to land the role of Eponine in the film adaptation of Les Miserables after first playing the character in the West End.
The film also stars The Hobbit and former Doctor Who actor Sylvester McCoy, Bafta-nominated star John Hannah and Sherlock Holmes actor Hans Matheson.