'Trail of lies' claim in Manx attorney general trial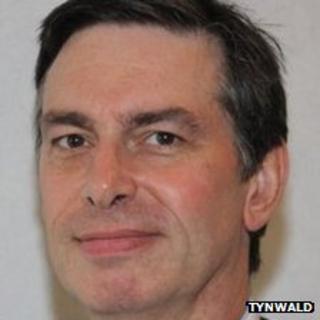 The Manx attorney general "laid a false trail of lies to conceal professional misconduct", a court has heard.
Prosecutor Peter Wright QC claimed Stephen Harding submitted false documents to a tribunal in 2010 and then lied "to cover his tracks".
At Douglas Court House, Mr Harding, 52, from Glen Vine, denies charges of acts against public justice and perjury.
He was suspended as the main legal adviser to the Isle of Man government last year.
The charges date back to a period between April and September 2010 when Mr Harding was a government advocate.
The jury of seven was told that in 2009, a local property development company, Street Heritage Ltd, found itself in financial trouble, with a tax bill of more than £180,000.
After failing to come up with a suitable repayment plan, a court date was set to begin the process of liquidation - something the company directors, father and son Jonathan and Jamie Irving, were keen to avoid.
'Lied under oath'
In the run up to the hearing, the court was told the Irvings had secured a loan and progressed plans to sell a property in an attempt to meet their bill.
They planned to ask the courts for more time, information the prosecution claims was relayed to Mr Harding.
The Irvings and their advocate did not appear in court for the hearing because they got the time wrong and Mr Harding remained silent about the company's plans to meet their bill, the court heard.
That silence amounted to a "failure in Mr Harding's public duty" said the prosecution, something which resulted in a formal reprimand during an advocates tribunal later that year.
The tribunal found Mr Harding's professional misconduct to be an "isolated incident" and a few months later he was appointed attorney general.
But the prosecution said this may never had happened had the tribunal been aware that Mr Harding "lied under oath" during the tribunal and "submitted false documents to cover his tracks."
The trial continues.