Phil Drowley: Climber's 'emotional' 14-year dream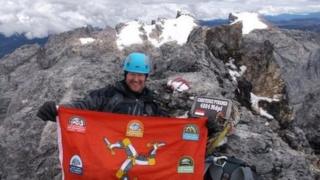 A Manx grandfather who recently completed a challenge to scale the highest mountains of all seven continents has said it was "emotional."
Phil Drowley completed the "seven summits" challenge earlier this month after his final mission to conquer Australasia's Carstenz Pyramid.
"When I reached the summit I had time to reflect on what has been 14 years of effort. It was emotional," he said.
He began his epic challenge in 2000 when he climbed Mt Kilimanjaro.
The 46-year-old acting chief inspector from Douglas said despite being one the shortest mountains to climb, Carstenz Pyramid had been one of the most challenging.
He said: "There is a traverse section at the top and a lot of rock climbing. There were a few terrifying moments along the way."
Having completed his seventh summit earlier than expected he then continued on to Australia to climb Mt Kosciuszko, its highest peak.
He said: "There is some confusion as to which one completes the challenge so I decided at short notice to climb both and make sure".
Only about 130 people are believed to have climbed all eight summits.
Mr Drowley planted a Manx flag at the summit of each climb which had been presented to him by the island's chief minister.
He said: "My wife was delighted for me but the first thing she said was, 'get rid of that beard'. I've promised her a sunshine holiday..."
He gained his appetite for mountaineering in 2000 when he climbed Kilimanjaro with four police colleagues, raising £14,500 for charity.
As well as Everest and Kilimanjaro, he has climbed Vinson Massif in Antarctica, Aconcagua in Argentina, Mount McKinley in Alaska and Europe's highest mountain, Elbrus in Russia.
Mr Drowley has been raising money for Ronald McDonald House Isle of Man Families and Friends.