Isle of Man Classic TT plans 2014 Joey Dunlop tribute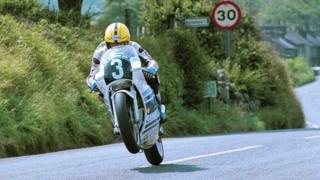 Tributes will be paid to the most successful racer in the Isle of Man TT's history at next year's Festival of Motorcycling, it has been announced.
Dunlop died at a race in Estonia in July 2000 at the age of 48, weeks after completing a hat-trick of TT wins on the Isle of Man's Mountain Course.
In a remarkable career, the Ballymoney man claimed 26 TT wins - six more than John McGuinness, who is still racing.
A spokesman said Dunlop's name is "synonymous with the TT".
Organisers said 2014's event will have an 80s theme throughout with particular attention given to Dunlop's career.
Trevor Hussey, the Manx government's Head of Motorsport, said the theme not only gives us a rich motorcycling theme but was also a strong cultural decade and we will look to really expand on that."
"It also gives us the opportunity to pay tribute to one of the greatest names in the TT's long history and we are really keen to develop an appropriate celebration of Joey Dunlop's racing career as his name is synonymous with the TT."
Entitled "Joey Dunlop - Road Racing Legend", the Classic TT weekend will celebrate his career in racing spanning several decades.
Organisers are working with the racer's family to curate an exhibition of his racing machines from throughout his career.
There will also be a parade lap featuring his 26 biggest career rivals, with appropriate representatives when a rider is unavailable.