Isle of Man Typhoon Haiyan collection raises thousands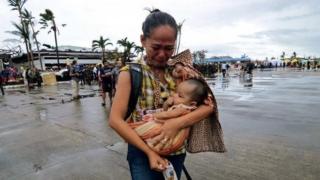 A street collection in the Isle of Man has raised almost £10,000 on behalf of the Disasters Emergency Committee's (DEC) Typhoon Haiyan Appeal.
Thousands of people are feared to have been killed in the typhoon which struck the central Philippines on 8 November.
The UN says more than 11 million people are believed to have been affected by the storm, with some 673,000 displaced.
The Isle of Man street collection, arranged by the One World Centre (OWC), took place on 16 and 17 November.
OWC director Rosemary Clarke said: "There are still lots of collections going on in schools, workplaces and other organisations so there is more money to be added to this total and other charities have also been fundraising to great effect."
'Amazing generosity'
Isle of Man branches of Save the Children, British Red Cross and Oxfam are also taking donations, as is the Filipino Association.
The Disasters Emergency Committee (DEC), a group of 14 aid charities, said the public was continuing to give with "amazing generosity".
It has helped more than half a million people affected by the typhoon, which killed more than 3,600.
The DEC said its focus was on reaching some of the more remote areas, which have yet to receive charity aid.