Isle of Man police probe after 'rare' shop robbery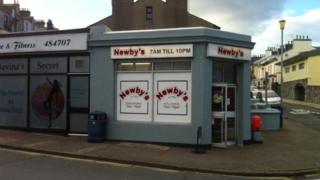 A shop assistant was left "upset and shaken" after a "rare" shop raid on the Isle of Man, police have said.
The robber escaped with about £70 after demanding cash from the young woman at Lower Newby's convenience store on Glen Falcon Road, Douglas on Wednesday.
A police spokesman said: "This is a rare incident on the island and the police are making a number of enquiries in order to identify the offender.
"The female member of staff was left upset and shaken."
The suspect, who was wearing a dark hooded top and jogging bottoms, may have had an Eastern European accent.