Herd of rare cattle 'move to Isle of Man Jurassic Park'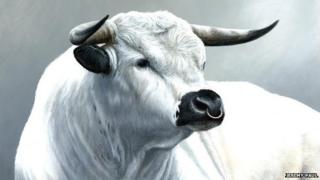 A herd of cattle has been introduced to the Isle of Man as part of a project to nurture and protect rare breeds from extinction.
Fourteen in-calf White Park cows were brought to Ballaloaghtan farm in the south of the island on 16 November.
The move is part of plans to establish a network of rare animal breeding centres, isolated from the UK, as insurance against widespread disease.
Farm Manager Chris Wade said the animals were "pretty as a picture."
He added: "The previous owner took extremely good care of these cows, they must have been his pride and joy."
Earlier this year, the Isle of Man was chosen as the "ideal geographical location" for a Noah's Ark-type project to protect rare breeds from extinction.
Supported by the Rare Breeds Survival Trust (RBST), the Manx project has been described by island farm owner Dr Paul Davis as being "like a sort of Jurassic Park".
"White Park cattle number among the world's rarest breeds of cattle, and this herd has come to the island to form a genetic breeding stock protected by the Irish sea from the dangers of extinction should disease strike the bigger island to our east," he said.
It is hoped the project could also become a valuable education resource for the island. Farm tours for tourists and school children are being planned for next year.
White Park cattle have been kept in Britain for more than 2,000 years but are now rare.
In 1973, there were only around 60 animals left, but today the number has grown to more than 750.