Hundreds of children start tree-planting initiative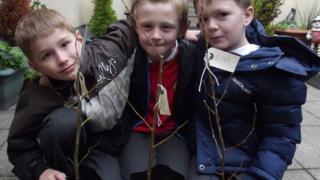 Hundreds of children in the Isle of Man have begun a project that will see them plant their own tree.
The government project will see more than 400 children nurture saplings before planting them in one of the island's plantations in March.
Brenda Cannel MHK said it was an "enjoyable and memorable experience" for all the children.
More than 2,500 trees have been planted since the project began in 2007.
The children will each tend to their own sapling this winter before planting them in Conrhenny plantation in March.
Five types of native trees have been distributed by the Department of Environment, Food and Agriculture.
Braddan Primary School's headteacher Louise Oates said: "The children love the fact that their individual trees are planted to eventually become part of a greater woodland.
"It teaches them about native species and the environment that these create for other plants and animals."
During the three-month project, children will learn about seeds, leaves, pests, diseases and planting.