Flybe decision to close Isle of Man base saddens minister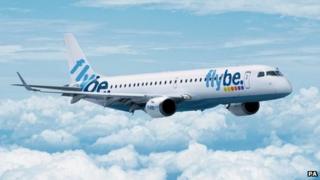 Airline Flybe's decision to pull out of the Isle of Man has been greeted with dismay by the island's government.
David Cretney, the Minister for Infrastructure, said he was "extremely saddened" by the news.
The Exeter-based airline is closing six bases as part of a cost-cutting plan, including Ronaldsway on the island.
The base - which has three aircraft - will close as the airline aims to save £85m over the next few years. About 50 people on the island will be affected.
Mr Cretney said some of the Flybe staff have worked at Ronaldsway for many years. He said: "I very much hope that Flybe does all that it can to assist its staff."
'Great personal uncertainty'
His department will work with Flybe and colleagues at the Department of Economic Development to help individuals find alternative employment on the island, he said.
The airline said it remained fully committed to services to the Isle of Man and was trying to reassure passengers they could continue to book with confidence.
Bases at Aberdeen, Guernsey, Inverness, Jersey and Newcastle will also close. Flybe said it would be reducing its workforce by 500, despite returning to profit.
The company's chief executive Saad Hammad said: "I know that these proposals are creating great personal uncertainty, but they are necessary to secure a long-term future for Flybe and I am grateful to the various union and staff representatives for the very constructive manner in which we have been able to commence the consultation process."
Jim McAuslan, general secretary of pilots' union Balpa, said: "Flybe needs to get back on the right track, but it is extremely disappointing that redundancies will be needed to do that.
"Pilots and their families will be suffering as they await further news. But so will the communities and islands served by Flybe."
This week, the company reported pre-tax profits of £13.8m for the six months to 30 September, compared with a loss of £1.6m a year earlier.