Isle of Man gift boosts Sierra Leone fishing industry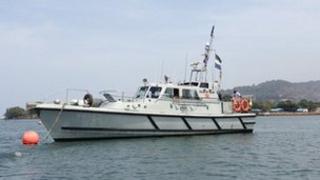 A Manx patrol boat, donated last year, has played a "pivotal role" in boosting the fishing industry in Sierra Leone.
The Manx government said figures from the west African country over the past year showed a 35% increase in local landings, worth about $16m (£9.9m).
Sierra Leone, according to an Environmental Justice Foundation report, has some of the highest levels of illegal fishing in the world.
The boat named Isle of Man is said to be the fastest in the country's waters.
It allows patrols to stop and inspect any fishing boat in their national waters and fines of up to $1m can be imposed for trawlers in breach of the law.
Manx Environment Minister Phil Gawne said: "We are a small country making a big difference to the lives of some of the world's poorest people, and that is an achievement to be proud of.
"The Isle of Man and Sierra Leone may at first seem unlikely partners, but in fisheries terms we share a common goal of developing sustainable, well regulated and most importantly profitable fisheries sectors."
According to Mr Gawne the introduction of the fisheries patrol vessel in Sierra Leone had already led to dozens of arrests and hundreds of thousands of pounds worth of fines being imposed.