New Isle of Man electoral constituencies named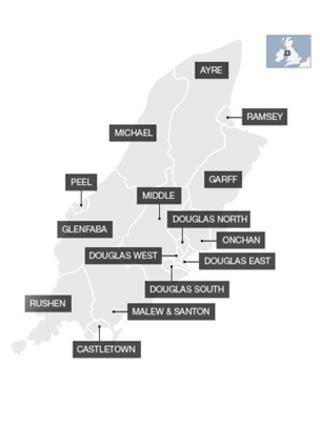 The Isle of Man's 12 newly formed electoral constituencies have been renamed, as part of a boundary overhaul equalising political representation.
Plans to reduce the number of constituencies were given Tynwald approval in July, meaning that each area is now served by two politicians.
It brings an end to a system in which some Isle of Man residents were given three votes and others got just one.
As part of the changes the Manx capital has been divided into four areas.
They are: Douglas Central (Albany, Ballabrooie, Eastfield, Quay, St George's, Somerset and Tynwald plus part of Garden City), Douglas East (Crescent, Derby, St Ninian's, Strand, Windsor), Douglas North (Glencrutchery, Willaston and most of Garden City) and Douglas West (Anagh Coar, Ballaugton, Pulrose).
The constituency of Garff now includes Onchan Parish and Howstrake, while Glenfaber and Peel have been made into one electoral area.
The constituency of Malew, Arbory and Castletown now includes Malew and Arbory while the area of Middle gains the parish of Santon.
The constituency of Onchan loses the areas of Onchan Parish and Howstrake whereas the Rushen constituency loses the area of Arbory.
The constituency of Ramsey remains unchanged.
The new names come after a public consultation launched in September which received 33 responses.