Isle of Man postman 'still delivering' after 60 years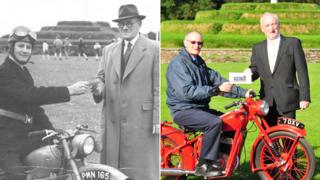 A photograph taken 60 years ago has been restaged in recognition of the Isle of Man's longest-serving postman.
Peter Hudson joined the Isle of Man Post Office as a telegram boy at the age of 15 in 1953 and, 60 years on, is still delivering mail for the company.
The 75-year-old said: "I feel very touched and honoured that so much trouble went into the photograph."
When Mr Hudson, who still works three days a week, joined the company his father and sister also worked there.
In the original photograph Mr Hudson is delivering a telegram on a bantam motorbike.
'Touched and honoured'
Mr Hudson said: "I couldn't believe it when I arrived at St John's and saw what had been secretly planned - I was stunned!
"I feel very touched and honoured that so much trouble went into finding the classic bike and arranging the photograph in the same place 60 years on.
"I've met so many wonderful people over the years and have many memories that will last with me forever.
"It doesn't feel like I've been working 60 years, I've enjoyed every minute of it and the job still remains a pleasure for me."
Mike Kelly, Isle of Man Post Office chief executive, said they could not let Peter's "magnificent milestone go by unnoticed".
"Peter is highly regarded and respected by not only management and his colleagues, past and present, but by the customers he serves," he said.
"He is a model employee and we are delighted he plans to continue to work for us a little while longer yet."