Isle of Man pledges £100,000 to Philippines typhoon fund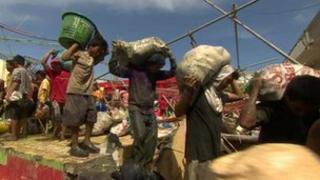 The Isle of Man's International Development Committee (IDC) has pledged £100,000 to the survivors of Typhoon Haiyan in the Philippines.
Chairman Phil Gawne MHK said he had "no hesitation" in pledging the money to help.
The IDC has promised the money to the UK Disasters Emergency Committee (DEC), which is working with charities.
The UN says more than 11 million people may have been affected and some 673,000 displaced by Typhoon Haiyan.
Mr Gawne said: "Typhoon Haiyan is a natural disaster on a colossal scale, bringing death and devastation to large areas of the Philippines.
"It is hard for us to imagine what it must be like to be overwhelmed by such a terrible tragedy. But we can play our part in the international relief effort,
"The International Development Committee had no hesitation in pledging this emergency aid funding on behalf of the Isle of Man government."
Typhoon Haiyan - one of the most powerful storms ever recorded on land - hit the coastal provinces of Leyte and Samar on Friday.