Isle of Man restaurateurs in illegal fish sale warning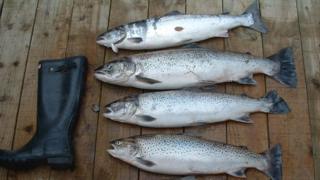 Isle of Man hoteliers and restaurateurs are being warned of heavy penalties if they are caught buying illegally-caught salmon or trout.
The environment department said anyone caught poaching, buying or selling river fish out of season will face prosecution.
The season ended on 31 October and is not due to resume until next Spring.
Minister Phil Gawne said poaching and its associated trade will be stamped out.
He added: "Any type of illegal fishing activity will reduce the number of these valuable fish available for successful spawning, which means fewer eggs to continue future generations of Manx salmon and trout."
A government spokesman said any suspicious activity should be reported to the Fisheries Directorate or the police.