Scrapping brings end to 'macabre' Solway Harvester site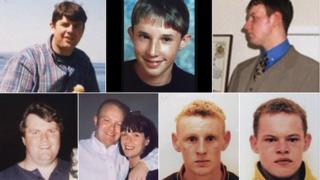 The scrapping of the Solway Harvester vessel will bring an end to a "sad and macabre" reminder of a fishing tragedy nearly 13 years ago, it is claimed.
Demolition work is being carried out by the Laxey Towing Company, one of the firms which helped recover the bodies of seven Scottish fishermen in 2000.
Stephen Carter from the company said: "It's time for closure."
He added: "Now we are going to cut it up. It has been a constant, sad and macabre reminder for long enough."
The Solway Harvester scallop dredger sank in heavy seas in January 2000 with the loss of seven Galloway fishermen.
The wreck has remained in Manx waters ever since due to the possibility of continuing legal action. The process of scrapping it began on Monday.
"Nobody can diminish the scale of a tragedy like this but we need to finish it off now, we will cut it up and sell it for scrap," added Mr Carter.
"There's no telling how much money we will get for it, the price of scrap varies from day to day and we don't even know how much it weighs anymore - there has been a lot of corrosion in the past few years."
The wreck of the Solway Harvester was found on 15 January 2000 lying on her starboard side in 35m (115ft) of water.
Those who died were: skipper Andrew Mills (known as Craig), 29; his brother Robin Mills, 33; their cousin David Mills, 17; Martin Milligan, 26; John Murphy, 22; David Lyons, 18; and Wesley Jolly, 17.
The men were all from the Isle of Whithorn area of Dumfries and Galloway.
"Ship breaking can never be described as a delicate operation, it will be cut up into manageable lumps in a systematic and safe way," added Mr Carter.
"We will do our utmost to have it finished by Christmas."