Basking sharks: Tag found after appeal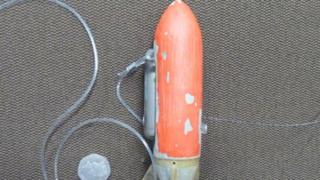 A basking shark satellite tag that was thought to have been washed ashore on the Isle of Man has been handed in by a member of the public.
The device, which is worth more than £1,000 to researchers, came off one of the sharks which was tagged last June.
It was found by Douglas man Tim Cross while he was out walking near Callow Point in Port St Mary on Saturday.
He said: "I saw the appeal and that was it- the gauntlet was thrown down- I really wanted to find the tag."
He added: "I took a walk out there last week but there was no sign of it so my partner and I head back on Saturday and while we were walking near Callow Point I saw what looked like some luminous string in the rocks.
"I just thought it was rubbish so started tugging at it and then I saw the torpedo bit coming towards me and realised we had found it.
A spokesman from the the Manx Wildlife Trust said the tag looks to be a reasonably good condition and scientists may be able to re-use it next year.
The satellite technology is called smart position or temperature (SPOT) tagging and is used by scientists to find out more about where basking sharks travel during the winter and what depths they can swim to.
It is hoped the programme will ultimately lead to increased levels of international protection for basking sharks.