Significant WW1 milestones to be marked on Isle of Man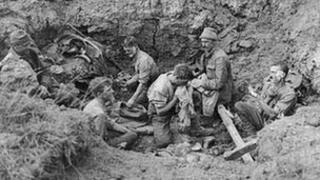 A group has been established in the Isle of Man to help people mark "significant World War One milestones" during next year's 100th anniversary.
Chief minister Allan Bell said the Manx government would play a "central role" in commemorating the anniversary.
Mr Bell said the group would help community organisations and public authorities mark "significant milestones" from the time.
The group will not directly organise activities or allocate funding.
Director of Manx National Heritage Edmund Southworth will chair the group.
'Dramatic impact'
Mr Southworth said: "The group will focus on helping to raise awareness of the Isle of Man's contribution to the Great War and encouraging community participation in events".
All ideas will be shown on the Manx government's website.
He added: "Official records show that 8,261 men enlisted in the armed forces, which was 82.3% of the Isle of Man's male population of military age.
"Of these, 1,165 gave their lives and 987 were wounded".
Mr Bell said: "The Great War had a dramatic impact on the Isle of Man, not just in the considerable number of lives of Manxmen lost, but also in the profound economic, social and political upheaval experienced over those four years and beyond.
"Tourism stopped, ships and crews were commandeered for service and island life was disrupted by men volunteering to fight and women moving away to work in munitions factories.
"The Isle of Man also ran camps for the internment of 25,000 enemy aliens."
The Isle of Man's "'untold stories'" of WW1 are to be revealed in a book as part of plans to mark the centenary of the outbreak of the conflict.