Thousands sign Summerland commemorative garden petition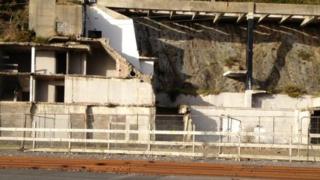 A petition calling for a commemorative garden to be built in memory of the 50 people who died in the Summerland fire in the Isle of Man, has been signed by nearly 2,000 people.
Campaigners say the move will honour those who died when fire swept through the leisure centre in August 1973.
Online petition organiser, Tina Brennan said: "Creating a commemorative garden on the site is the least we can do."
About 3,000 holidaymakers were inside when the fire started.
An investigation after the disaster led to major changes in fire regulations in the Isle of Man and the UK.
Mrs Brennan's petition was handed into the island's Infrastructure Minister, David Cretney on Wednesday.
Mr Cretney said: "As someone who saw the devastating effects of this fire first hand, I understand what a terrible event it was for those affected but we must remember this site has already been redeveloped since 1973.
"The land is an important part of the government's property portfolio and if we were to receive a good offer for it, in these difficult economic times, it would be wrong to turn it down.
"We will however look to marking the tragedy in some way when we have more idea about what the land will be used for."
Last August a permanent memorial inscribed with the names of the victims was unveiled near to where Summerland once stood, in an event marking the 40th anniversary of the fire.