Record seal pup births on Calf of Man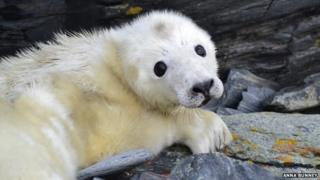 The highest recorded number of seal pups have been born on the Calf of Man this year, according to the Manx Wildlife Trust (MWT).
Wildlife experts had predicted the "bumper year" for seal births after the first six were born a week earlier than expected in September.
Marine officer Eleanor Stone said the 45 births were the "highest ever".
Births are recorded by volunteers as part of the Manx Wildlife Trust's annual survey.
'Star mums'
Ms Stone said the record number suggested that feeding conditions over the past year were particularly good and that the Calf was still "a really good pupping area".
MWT members are now studying photographs to spot returning mothers.
Ms Stone said that several mothers were already known to return to the same spot to give birth.
She said: "Two star mums have now had a pup there every year for the last five years.
"The usual repertoire of behaviour was seen at the pupping beaches, with squabbles between females and some fierce fighting between the males.
"The majority of the pups will now have been born for this year, but there are always a few latecomers."
Mothers have been known to abandon their pups if disturbed by the public.
The Manx Wildlife Trust's monitoring programme, which began in September, is used to gain more insight into the grey seal population around the Manx coastline.
Pups are born snowy white but in just a few weeks they will shed this coat, be fattened up on their mother's milk, weaned and then left to fend for themselves.
Volunteers join the Calf's only warden, who manages the islet for 38 weeks of the year, during the survey.
Although the Calf of Man is run by Manx National Heritage, the Manx Wildlife Trust provides the warden service for the islet.
The Calf is approximately one square mile in size, and has been a Bird Observatory since 1959.