New engine makes Isle of Man heritage railways 'faster'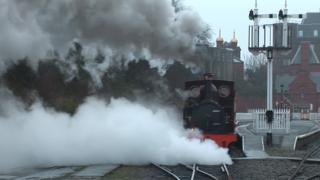 A new diesel locomotive engine costing about £400,000 will make the Isle of Man's heritage railway "faster and safer", it has been claimed.
The 42.5 ton engine has a top speed of 29 mph compared to the current Viking diesel which can only reach eight miles-an-hour.
It is expected to arrive on the Isle of Man from America next month.
A government spokesman said it will ensure that the railways continue to operate "safely and efficiently".
Community, Culture and Leisure Minister, Graham Cregeen said the new engine meant some positive changes for the heritage railways.
He added: "This improved performance opens up the possibility of operating more efficient commuter trains during TT week.
"It will [also] permit the emergency substitution of steam engines instead of using buses to transport passengers."