Isle of Man prisoner's e-cigarette appeal rejected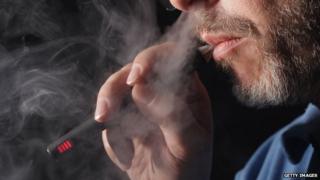 A prisoner's appeal to be allowed to smoke e-cigarettes in jail has been rejected by the Manx government on health and safety grounds.
The home affairs department said not enough is known about the health implications of electronic cigarettes to sanction their use.
A complete smoking ban was introduced as Manx prison policy in May 2008.
Minister Juan Watterson said: "Medical opinion is that these products are still something of a lottery."
He added that the decision was taken only "after considerable research, debate and scrutiny," and may be reviewed "if e-cigarettes are properly regulated in the future".
E-cigarettes contain batteries and "e-liquid" - a solution of propylene glycol or glycerine - containing a nicotine dose.
A battery inside the e-cigarette heats up a coil attached to a wick. When the liquid is presented to the hot wick it produces vapour which can be inhaled.
Guernsey recently followed the Isle of Man's lead by banning smoking at its Les Nicolles prison, but allows prisoners to purchase e-cigarettes as a tobacco substitute.
A government spokesman said while e-cigarettes are being trialled in other prisons, the island's health department "concluded it would be wrong to promote the use of e-cigarettes until concerns over long-term health impacts are addressed."
Draft legislation in the EU - including a UK version - plans to restrict the sale of e-cigarettes and bring them within medical regulation. Manufacturers will need to be licensed, and the components labelled clearly with their precise nicotine content.