Isle of Man venue becomes 'huge poker room'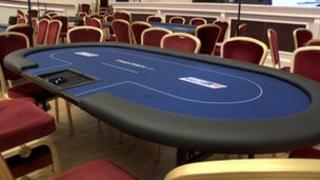 An entertainment venue on the Isle of Man has been converted into a "huge poker room" in preparation for a gambling tournament.
The UK & Ireland Poker Tour, the first of its kind on the island, will be held at the Villa Marina in Douglas.
It is being hosted by island-based e-gaming firm PokerStars which moved its headquarters to the island in 2005.
A company spokesman said transforming the Villa Marina into a casino floor has taken days to organise.
He added: "However, we have been preparing for more than a year to ensure the players get both a high-class poker experience and a chance to see what the Isle of Man has to offer.
"The festival will enable us to showcase the island to hundreds of poker tourists."
The main event during the tournament, which runs from Wednesday evening until Monday, carries a prize of £500,000.
PokerStars said there will also be a charity fundraising evening and a job fair for island residents to explore employment opportunities within the e-gaming sector.