Kurt Schwitters event in Isle of Man attracts 'thousands'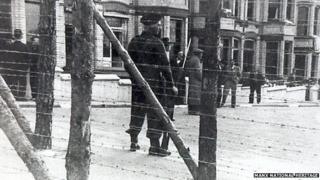 An exhibition featuring work by artist Kurt Schwitters during his internment on the Isle of Man attracted thousands of visitors, organisers have said.
The display was unveiled on 27 September at the Sayle gallery in Douglas - close to where the German was interned during World War II.
A spokesman said Responses to Place brought in almost 3,000 visitors.
He added: "Some people came from Australia, Canada and the USA, as well as the UK and mainland Europe."
As a German national living in the UK, Mr Schwitters, a painter, sculptor, typographer and writer, was arrested by the British in 1940 as an "enemy alien".
He was taken to the Isle of Man where he spent the next 16 months imprisoned in Hutchinson Square camp in the capital.
'Come home'
He was held, with more than 1,000 others, from 17 July 1940 until 21 November 1941 at the camp, which consisted of about 40 boarding houses enclosed with barbed wire.
A gallery spokesman said that the location of the exhibition was important.
"The works were on display only a few hundred yards from where Schwitters had lived- it was almost as if he had come home to Douglas," he added.
With his one-man art movement Merz, Schwitters is said to have influenced artists from Robert Rauschenberg to Damien Hirst and Sir Peter Blake.
Earlier this year his work was the subject of a major exhibition at Tate Britain.