New 20-year ban on dredging in Isle of Man seas imposed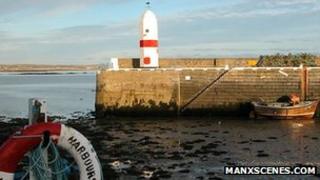 A 20-year ban on scallop dredging is to be imposed on a bay in the south of the Isle of Man, as part of continuing efforts to protect the seabed.
A Manx government spokesman said the move, which will be reviewed in five years, follows consultation with the island's fishing community.
From 1 November Baie ny Carrickey, Port St Mary, will become the sixth stretch of seabed to be given protected status.
Other areas include Port Erin, Douglas, and Ramsey marine nature reserve.
Environment Minister Phil Gawne said protection measures will help sustain Manx fisheries for the future.
"I am pleased at the very responsible attitude taken by our fishermen in agreeing to the closure and am committed to working with them to ensure this responsible approach is properly rewarded," he continued.
Baie ny Carrickey will also be closed to lobster and crab fishing- except for members of the Crustacean Fishery Management Association or hobby pot fishermen.
The island currently protects 4.2 sq miles (11 sq km) of seabed, including kelp forests, rocky reef habitat and limestone ledges encrusted in marine life.
The site includes the seabed off Kallow Point, Perwick Bay and the Sugar Loaf.
More than 3% of the Manx seabed is now protected from trawling and dredging.
Manx territorial waters have been surveyed by scientists from the University of Bangor as part of ongoing plans to introduce fishing restrictions to allow animal and plant life to recover, and feed the surrounding seabed.