Minibuses introduced to 'reduce costs' on rural routes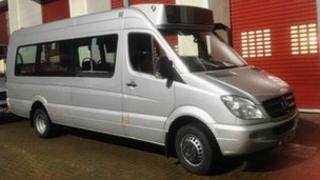 Minibuses are to be brought into operation in the Isle of Man to replace larger buses on some rural routes, it has been confirmed.
Buss Vannin said it would shortly start operating two Mercedes Sprinter minibuses to "increase efficiency and reduce costs".
Each bus can seat 17 and can have up to nine passengers standing or space for a pram or wheel chair.
A government spokesman said the move would reduce costs.
Transport Minister Graham Cregeen said: "We are trying to preserve our rural network in the face of significant budget cuts.
"My policy is to ensure we minimise our costs before we increase charges to our passengers."
Driver training is currently taking place after which the minibuses will start operating on some services on rural routes 13, 16, 17, 18, 19, 20 and 29.