Jubilee Clock: 126-year-old Douglas landmark moved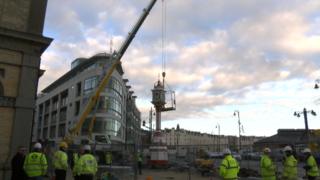 A 126-year-old clock is to be moved later as part of a multimillion-pound regeneration scheme in Douglas.
The Jubilee Clock will be relocated from the junction of Victoria Street and Loch Promenade to a new plinth nearby.
The first phase of the scheme, which it is estimated will cost £17m in total, involves road improvements between the Sea Terminal and Victoria Street.
Advocate George William Dumbell donated the clock to Douglas in 1887.
Peter Kelly of the Isle of Man Victorian Society said it had been an "important Isle of Man landmark" ever since.
He said: "Everyone who has got off the boat and walked along the promenade knows to look out for the clock.
"The promenade has changed over the years with modern buildings replacing Victorian boarding houses but the clock has always been a constant."
The clock, to commemorate Queen Victoria's Golden Jubilee, was manufactured by Walter Macfarlane & Co at the Saracen Works in Glasgow.
Mr Kelly said: "In 1996 parts of the clock were sent away to England for restoration but the clock itself has never been moved."
Director of Highways Richard Pearson said: "The move will help make the street environment more pedestrian friendly."
In 2010, a public consultation received 452 written responses with the "overwhelming majority" supporting the regeneration of the promenade, according to Mr Pearson.
The government survey showed that nearly 60% of people who responded thought its appearance was sub-standard.
The first phase of the project involves resurfacing the road, as well as improvements to drainage and pavements, and will take about 10 months to complete.