Isle of Man couple describe 'disastrous' holiday flight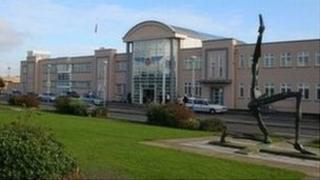 An Isle of Man couple who stayed onboard a problem-hit direct flight to Portugal have described their journey as "disastrous".
They were among 160 passengers kept on a plane for five hours after it was filled with too much fuel to take off from Ronaldsway airport on Monday.
Sue and Graham Hughes finally arrived at their hotel without their bicycles for their cycling holiday on Wednesday.
Mrs Hughes said their journey had been "disastrous all the way."
Twenty five passengers were told they could not fly on Monday as the plane was too heavy to take off.
The passengers that did fly on the SATA flight organised by Atlantic Holidays were then flown to Lisbon for an overnight stop to change crew.
'Met with cheering'
They said when they did arrive the landing was "met with cheering".
Tour operator Atlantic Holiday's failed to inform their hotel of their late arrival, they added.
"We're only here for a few days and the communication has been very poor," Mrs Hughes said.
Airport director Ann Reynolds said a change in wind direction had altered how much weight the plane could carry.
A spokeswoman for Atlantic Holidays said they were talking to SATA about the incident.
The Portuguese airline said the plane had been delayed for "technical reasons".
A spokeswoman said: "Due to the weather conditions, overload and the fact that it was assigned a limitative runway to take off, it was necessary to remove 25 passengers for safety."
The flight is one of only three a year which goes direct between the islands.
The SATA spokeswoman said the 25 people who did not go on the flight will receive compensation which will be determined by the tour operator.