Fuel issue leaves plane too heavy to carry passengers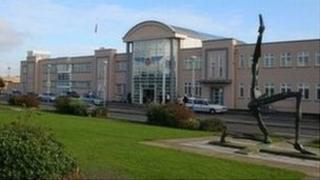 Twenty five passengers had to wait for five hours on a plane in the Isle of Man before they were told they could not fly as it had taken on too much fuel to take off, it has emerged.
About 160 people boarded Monday's SATA flight from Ronaldsway to Madeira.
Airport director Ann Reynolds said a change in wind direction had altered how much weight the plane could carry.
She added that the passengers who left the flight were offered compensation and a non-direct flight to Madeira.
A spokeswoman for Atlantic Holidays, which organised the flight, said they were talking to SATA about the incident.
She said that all passengers were being kept up to date, but that even those who had left on Monday's flight were yet to reach their destination, as it had been diverted to Lisbon rather than flying direct to Madiera.
The Portuguese airline said the plane had been delayed for "technical reasons".
A spokeswoman said: "Due to the weather conditions, overload and the fact that it was assigned a limitative runway to take off, it was necessary to remove 25 passengers for safety reasons".
The flight is one of only three a year which goes direct between the islands.
'Absolute joke'
Ms Reynolds said she was "very sorry for the passengers".
"They would have been very excited. They were boarded but not kept updated."
She added that she was also "sorry for the holiday company, who have made all the bookings and sorted out the charter".
"This is a very rare occurrence."
Passengers took to Twitter to protest at how they had been treated by the airline.
Simon Spenser tweeted that it was "disgraceful treatment of a plane full of passengers", while Sarah Kelly tweeted that "all we been given is water, what an absolute joke it is".
Ms Reynolds said the passengers who left the flight were offered 250 euros and a non-direct flight the following day.
The SATA spokeswoman said all 25 refused to take the non-direct flight and compensation will now be determined by the tour operator.