Manx gas explosion: Fight goes on six years after Port Erin blast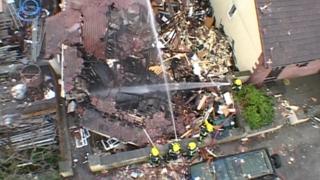 A man who was left in intensive care after his house was destroyed in a gas explosion has said he is still fighting for compensation almost six years on.
Jim Horan suffered broken ribs, leg injuries and multiple burns when a gas leak ignited at his Port Erin home in January 2008.
The 61-year-old is trying to establish whether Manx Gas should be held accountable for the blast.
Manx Gas declined to comment until the conclusion of any court action.
The former maths teacher is currently compiling a case for the civil courts on the Isle of Man.
'Like a bomb'
Mr Horan, who was asleep at the time of the blast along with two of his sons and a family friend, was rescued from the rubble by his eldest son, Ben.
A mains pipe in the road outside his home had fractured. Gas seeped into the lower floors before being ignited by a spark from Mr Horan's oil-fired central heating.
The explosion blew off the roof, shattered walls and windows and blew a hole in a nearby house.
At the time Ben, who also pulled his younger brother Jamie and friend Laszlo Mohlnar from the remains said he woke to "the sound of the house collapsing" on top of him.
He said: "All you could hear was glass falling and water dripping it was like a bomb had gone off."
Mr Horan did not have a gas supply to his property.
'Irreplaceable photos'
The 61-year-old, who had to have his spleen removed, spent several days in intensive care and still suffers from the effects of his injuries.
He said he was "in pain most days".
"I was a keen walker and I was always helping out at school. Now if I went up a hill, they would have to come and rescue me."
The family spent 18 months in hotels and rented accommodation before their home was rebuilt in 2010.
He said: "We lost absolutely everything we were literally left with the clothes on our back.
"Some things are simply irreplaceable, like my photos of my late wife.
"My youngest son was only one when she passed away and they were incredibly important to us."