Isle of Man ferry fire exercise held in Liverpool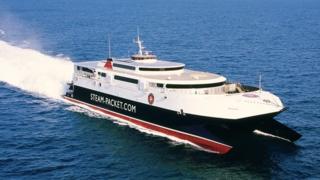 A fire exercise took place on board an Isle of Man ferry while birthed in Liverpool on Saturday.
The training exercise took place on the Isle of Man Steam Packet's Manannan vessel in conjunction with Merseyside Fire and Rescue Service.
It took place at 13:00 BST following the scheduled sailing from Douglas and did not disrupt any other sailings.
It was expected to take about three hours to complete.
Earlier, an Isle of Man Steam Packet spokesman said: "The scenario will be based around an engine room fire, with trapped and injured crew."
A smoke generator was also used simulate the fire.
Chief Executive Mark Woodward said beforehand: 'The aim of the exercise is to enhance our crews' training and their response to an emergency situation.
"The exercise will have no impact on our weekend schedule and as it is a planned scenario, we wanted to advise the public to avoid any confusion for anyone who sees the emergency services attending Manannan."